OTTO APARTMENTS
coming soon
Fully furnished apartments
Shared 2, 3, and 4-bedroom apartments
Free bi-weekly common area cleanings
Affordable all-in-one utility package
Join The Waitlist
To receive notification when the building is ready, sign up below…
 We value your privacy. We never share or sell your info.
By clicking SUBMIT, I agree a leasing agent may contact me by phone, email or text message about my rental needs. I acknowledge that I have read and agree to the Terms and Privacy Policy.
FURNISHED SHARED APARTMENTS FOR RENT
brand new affordable apartments in miami
Otto offers brand new, affordable, and fully furnished shared apartments. Located at 228 NW 2nd Ave, in the heart of Little Havana, Otto is just minutes from Downtown Miami, Brickell and Calle Ocho and steps from the Miami River.
This modern three-story building features various types of coliving apartments, where you can rent your own private bedroom with an en-suite bathroom and share the common areas.
Coliving apartment types:
Two Bedroom / Two Bathroom
Three Bedroom / Three Bathroom
Four Bedroom / Four Bathroom
All of our move-in ready apartments are built for the young professional that wants the comfort of a clean modern space, needs flexibility, and values convenience.
Renting a furnished apartment at Otto is the perfect way to save money and live comfortably. Click below to join our waitlist and receive a notification when we start leasing.
Photo Gallery
modern, efficient and furnished apartments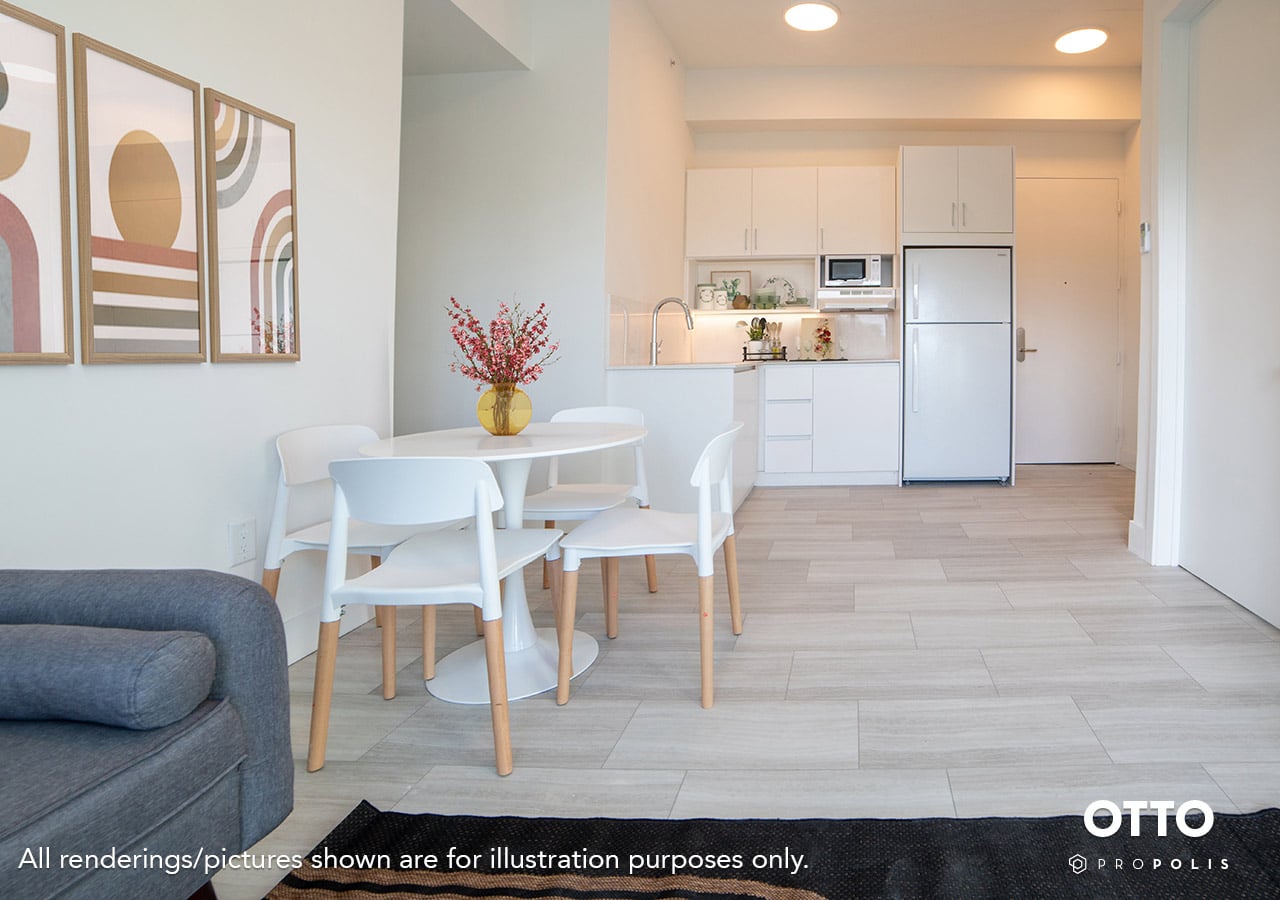 AMENITIES AT OTTO APARTMENTS
expect more without paying more

CONTROLLED SECURITY ACCESS



ONLINE MAINTENANCE REQUESTS

BALCONIES IN SELECT UNITS


VERTICAL SPACE MAXIMIZATION
BEDROOM CONTROLLED AIR CONDITIONER

HOUSE CLEANING & FREE HOUSEHOLD SUPPLIES

Frequently Asked Questions
have questions? we have answers​
Is Otto ready for move-in?
Not yet. Otto leasing will launch in Q1 2023. Sign up through our form to join our waitlist and find our current availability and pricing for other buildings too.
I'm interested, what are the next steps?
Sign up through our simple online form and receive the latest info via text.
What is coliving? Are all the apartments shared?
The idea of co-living is based on private spaces in shared modern apartments where members have both the privacy they desire and the community with varied cultures and shared interests. Think of it as living with roommates, without the traditional headaches of roommate living (like coordinately move-in, move-out, rent and utility payments, etc.).
Coliving is revolutionizing the way we work and live in the big city. It is popular with digital nomads, travelers, students, remote workers, corporate executives, interns, and those who want a new way to live that affords flexibility, costs that are predictable, and a shared community.
We have various coliving apartments available here. 
How much is rent and what's included?
You can rent a private bedroom in one of our shared fully furnished coliving apartments starting at $1,175 plus an all-in-one utility package. 
What's included in the all-in-one utility package?
Our all-in-one utility package covers everything, including power, water, trash, high speed wifi, streaming channels on our Smart TVs, plus a cleaning team that cleans common areas twice a month! They even replenish your household cleaning supplies, like paper towels, dish shop, and detergent for free. You'll never have to be stuck on the phone with the utility company again!
Are these all fully furnished apartments?
Yes, our apartments are fully furnished, so you don't need to bring anything except clothes, a toothbrush and bedding. Our kitchens are also stocked with utensils and cookware, so the apartment is move-in ready.
Sorry, we do not offer any unfurnished apartments and do not allow outside furniture. However, you can still bring art and design elements for your private room.
I want to live by myself, do you have studios?
We do not have studios or one bedrooms at Otto.
What is required to move in?
It's a $75 application fee for the background and credit check to get started. All coliving applicants must also fill out a coliving questionnaire so we can match up roommates. Once approved, you just need to pay your first month's rent and take care of the deposit (more on that below).
How much is the security deposit?
For long-term leases, we require a security deposit or security deposit replacement. Most buildings are stuck doing things the old way: asking for one to two months security deposit (depending on your credit score).
But we think there's a better way, which doesn't cost so much upfront. That's why we recommend applicants purchase a surety bond through third party partners, like The Guarantors or Rhino, instead of paying a hefty deposit — which can save you hundreds of dollars in move-in expenses.
How do I pay every month? Can I pay electronically?
We use industry standard rental software. All members are required to use our designated payment platform, which allows payment with e-check (bank transfer) or credit/debit card. You can setup auto-payments, so you never have to worry about rent checks.
How long can I stay?
We offer flexible leasing starting at 6 months. Prices differ based on length of stay.
Do you offer short-term or monthly rentals?
We have a several units dedicated to short term rentals. If you're looking for a fully-furnished short term rental near Downtown Miami, please fill out the online form above to get started.
Can I see the apartment in person?
Since COVID, we have opted for a completely virtual leasing model. We make 3D tours, photos and floor plans available as soon as possible.
How do I know who my roommates are?
If you decide to rent a coliving apartment, Propolis matches up roommates based on a roommate-matching questionnaire that every coliving tenant fills out. Every resident goes through a background check and credit check as well. Our community appeals to young professionals, who share similar values, regardless of their cultural, professional or lifestyle differences. Before you move in, we'll introduce you to your roommates. Everyone has their own lease and agrees to the same rules and regulations, so you're protected and can remain independent.
Am I allowed to have a roommate?
Sure! If you already have a roommate, we'd be happy to put you both in the same apartment (if available). You'd each sign a separate lease for your private bedrooms, so you don't have to have the same move-in, move-out, length of stay, etc. This a great way to remain independent and flexible. However, please note that we do not allow more than one person per bedroom on the lease.
Is there laundry in the building?
Yes, there is a laundry room with washers and dryers on-site. And don't worry, you won't have to look for quarters because we use a smartphone app, so you can pay electronically and even get a notification when your loads are ready.
What is there to do in the area?
Little Havana is Miami's vibrant Cuban heart with Latin American cafes and art galleries. Calle Ocho is the main commercial artery filled with cigar shops, Cuban sandwich and coffee options. The building is steps away from Miami River with vibrant nightlife and dining options such as Seaspice, Kiki on the River, Garcia's and Casablanca being walking distance. Otto's location is centrally located, so it is less than a 10 minute bike ride to Brickell, Downtown Miami and 20 minutes to Wynwood.
Are pets allowed?
Although we love all animals, we currently have a no animal policy in the building.
What if I have more questions?
If you're interested in learning more, you can fill out the form to receive more info. Due to the amount of inquiries we receive, our team is only able to respond to specific questions when we have an apartment ready for lease and you are a qualified applicant.
sign up to be notified when the building launches
 We value your privacy. We never share or sell your info.
By clicking SUBMIT, I agree a leasing agent may contact me by phone, email or text message about my rental needs. I acknowledge that I have read and agree to the Terms and Privacy Policy.
OTTO is a brand new, fully furnished apartment building offering shared apartments in Miami, FL. If you're looking for a shared apartments for rent without the typical headaches of renting with roommates, sign up for more info.
OTTO Apartments
Furnished shared apartments for rent in Miami FL